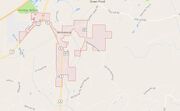 Woodstock, Alabama is the town featured in the S-Town Podcast. It is refered to as "Shittown" by both John B. McLemore and S-Town host Brian Reed.
According to a 1999 census, Woodstock has a population of 900. It's located in the Bibb and Tuscaloosa counties and was formerly known as North Bibb. The town name was changed in 2000. It was first settled in the 1820s after a land grant was given to William Houston in 1826. The town measures at 7.2 square miles.
The median resident age is 34.3 years and the median income for households is $36,691. About 93 percent of the population is white.