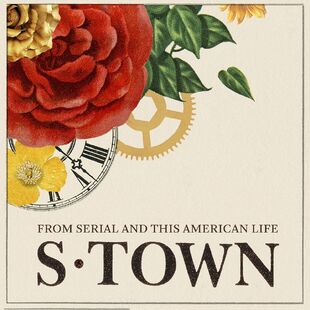 S-Town
is an investigative journalism podcast from Serial and This American Life, hosted by
Brian Reed
, about the real-life events surrounding a man named
John B. McLemore
from
Woodstock, Alabama
. John asks Brian to investigate the son of a wealthy family who's allegedly been bragging that he got away with murder. But then someone else ends up dead, and the search for the truth leads to a nasty feud, a hunt for hidden treasure, and an unearthing of the mysteries of one man's life.
Brian, a long-time This American Life producer, started reporting this story more than three years ago, when he got an email from John with the subject line "John B McLemore lives in Shittown Alabama."
S-Town is part of Serial Productions, a production company from Serial and This American Life.
BRIAN REED - HOST AND EXECUTIVE PRODUCER Brian Reed is the senior producer of the public radio show and podcast This American Life. In his seven years with the show, he has created some of the program's most ambitious stories, including "The Secret Recordings of Carmen Segarra," an investigation into the Federal Reserve's supervision of Goldman Sachs; "Cops See It Differently," a nuanced look at the relationship between African Americans and the police; "Abdi and the Golden Ticket," which follows a Somali refugee desperately trying to get to America; and "What Happened at Dos Erres," the story of a massacre in Guatemala and its reverberations decades later, which earned him a Peabody Award.
JULIE SNYDER - EXECUTIVE PRODUCER Julie Snyder has been the guiding force behind two of the most successful ventures in audio broadcasting: she is the co-creator of the podcast Serial, which debuted in October 2014 and has been downloaded more than 200 million times, making it the most listened-to podcast in history. Before that, for many years, she was the senior producer of This American Life, which is heard by more than 4 million listeners each week.
Brian Reed reveals in Chapter I that "S-Town" is a censored euphamism for "Shittown," the nickname John B. McLemore has for his home town.
S-Town's theme is produced by composer Daniel Hart.
The song that plays at the end of each chapter is titled "A Rose for Emily," by The Zombies.
The artwork featured on this wiki is by illustrator Valero Doval.
Additional Credits
Edit
EDITORIAL ADVISORS:
IRA GLASS
SARAH KOENIG
NEIL DRUMMING
DIGITAL EDITOR:
DIRECTOR OF OPERATIONS:
WEB DEVELOPMENT:
WEB DESIGN:
FACT-CHECKING AND RESEARCH:
ILLUSTRATIONS:
STORY CONSULTANT:
AUDIO MIXING:
TECHNICAL DIRECTOR:
MUSIC SUPERVISOR:
DIGITAL MANAGER:
LINE PRODUCER:
BUSINESS MANAGER:
For press inquiries, email press@stownpodcast.org. For any other inquiries, email info@stownpodcast.org.